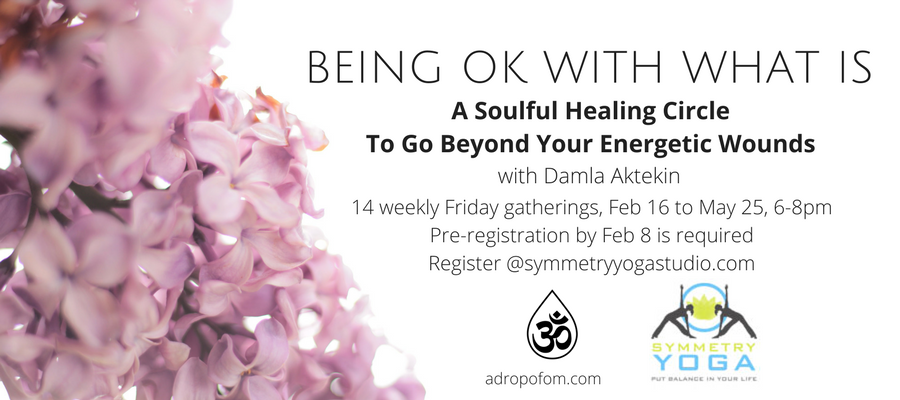 Being Ok With What Is
A Soulful Healing Circle To Go Beyond Your Energetic Wounds
Imagine having the support you need to navigate your energetic wounds, repeating emotions, and your soul journey. What would it be like to learn how to be with the daily demands and stresses of your life? What would it feel like if you could let go of past hurts, feelings and the trauma? How would it feel if you could be completely ok with who you are and where you are in life no matter what your circumstances are?
In this 14-week soulful healing gatherings, we will do exactly that and more. This is a potentially life-changing experience that will involve energy healing with crystals, Sound Balancing with tuning forks, and learning everything you need to know to be able to change your relationship with your reality, based on Damla's and her clients' healing journeys and experiences. You will receive 14 energy healing sessions and leave with a deep knowledge of energetic wounds and extremely practical tools to heal them and navigate your daily life. You will also have the loving, non-judgmental support of a nourishing soul circle, as you go through the journey of being ok with what is.
You should consider signing up if:
You have a history of physical and/or emotional trauma
You are under chronic (repetitive) stress and live with chronic physical conditions such as headaches, auto-immune disorders, digestive issues, PMS, etc.
You are going through or have recently gone through a major life change such as divorce, moving, change of jobs, having children, children leaving the nest, menopause, dealing with loss, etc.
You wish to clear and expand your energy field and maintain healthy chakras
You wish to find balance, clarity, and joy in your life
Each week we will explore a new aspect of your life and learn tools for being ok with what was, is and will be, and go deep within to heal energetic wounds.
Each weekly gathering will be 2 hours long.
1 hour will be dedicated to group sharing and to learn about energetic wounds and various tools to go beyond them. We will use partner exercises, visualizations, EFT, and somatic exploration.
1 hour will be dedicated to a weekly alternating Chakra Bliss Healing and Sound Balancing. Both of these are powerful healing methods. Damla will work on the group energy to support your healing process. There will be a total of 7 Chakra Bliss Healings (covering all chakras) and 7 Sound Balancing sessions (covering one chakra per week).
You will have weekly homework exercises and will have a chance to share and connect with each other and Damla through a private Facebook Group.
Damla will be available to answer your questions through the Facebook Group or via email all throughout the 14-weeks.
$300/person ($21 per week). Monthly payment plans are available upon request.
Pre-registration by February 8th is required.
Minimum 8, maximum 18 participants.
Drop-ins are not allowed. I encourage you to make a commitment to your healing.
There will be no make-ups if you miss a class, but you will still be included in the healing portion as a distant healing participant. In the case of an emergency, another two-hour meeting will be added after the end of the session.
No meeting on May 18.