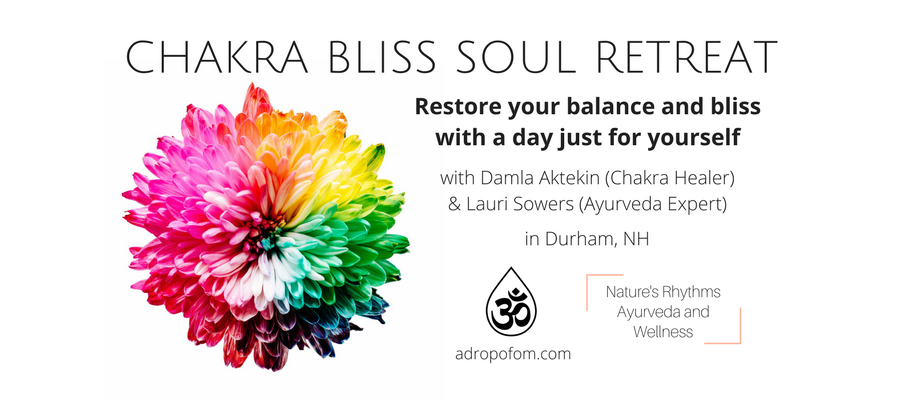 Chakra Bliss Soul Retreat
Restore your balance and bliss with a day just for yourself.
When is the last time you took a day off for self-care and relaxation? When did you last connect with other women soul-to-soul, and took part in gentle healing rituals to bring balance and bliss to your life and body?
Lauri and Damla are inviting you to do just that in a comfortable, cozy, nourishing, and healing day retreat. We will meet in Damla's living room in Durham to hold the intention of restoring our bliss and re-igniting our connection to our souls through Ayurveda, yoga, chanting, crystal healing and more.
No need to travel to a retreat center or plan an overnight trip. This is your chance to give yourself a much-needed break and uplift right in your neighborhood.
Upcoming Dates:
May 12, 2018 Saturday (the day before Mother's Day)
September 22, 2018, Saturday (Fall Equinox Day)
Open to 10 soul-centered women
A minimum of 4 registrations needed to run the retreat. Pre-registration required.
Reserve your space by clicking below:
Sample Schedule
(activities will change slightly for each retreat)
9-12:30pm
Ayurvedic tea ceremony to ignite all our senses
Opening meditation to set our healing intentions
Ayurvedic self-massage (abhyanga) to nourish our largest organ, our skin
Gentle yoga to awaken our bodies
12:30-1:30pm lunch
1:30-5pm
Chakra Bliss Healing with crystals to connect with our souls
Love journaling
Sound Balancing to clear energetic wounds from your chakra field*
Sharing circle to connect with each other
Closing meditation to digest all that we have experienced
What we'll have for you: Tea and water, nuts and dried fruit, your self-massage oil, crystals to share during healing
What to bring: A light lunch, your yoga mat, a big towel for self-massage, any crystals you may wish to use during healing.
How to dress: Please dress comfortably in layers with a no-sleeve top and shorts or a bottom that you can roll up during the massage.
Location: Damla's living room at 8 Willey Rd. Durham, NH 03824 The gray house with the brick first floor. Please park at Willey Rd. and come through the front door.
Testimonials
"Chakra Bliss Soul Retreat is a wonderful day to recharge and learn something new about yourself. Self-care is of utmost important, and Damla and Lauri provided me with practical tools and ideas to integrate into my every day practice. I really enjoyed the day. I think the activities chosen were perfect for the event, and that the flow of the day was very smooth. The transitions between each component worked well and it came together nicely. Both Lauri and Damla did a wonderful job! I think the way you set up the day was great. I think it was also wonderful that you both participated in the half that you were not facilitating. I thank you both for taking your time to share your knowledge with us. After the retreat I felt wonderful! I felt relaxed and happy. I also felt a spark to try to shift my routine to include more self-care and energy work practices regularly."
Allison Cloutier
"Overall I loved the event! I would recommend Chakra Bliss Soul Retreat to anyone who needs a day to recharge themselves."
Karen Ortiz
About Lauri
Lauri Sowers is a holistic practitioner who combines her education in Ayurvedic medicine as an Ayurvedic practitioner, twenty years of practice as a yoga student, teacher and teacher trainer as well as her intuition as a reiki master teacher to develop a holistic approach for each individual's wellness. This holistic approach includes lifestyle practices, diet, herbs, meditation, yoga, and energy work. She is committed to helping each patient understand who she/he is and how to find balance and health in body, mind, and spirit. You can find out more about her work at this link.
About Damla
Damla Aktekin is a Healer, who helps people with energetic wounds to reclaim their light and replace their burdens with joy, love, and bliss. Through her own healing process, she discovered that she is clairaudient (she hears clear guidance). She is also a 500 hour Certified Yoga Teacher and a Reiki Master and has over 1000 hours of healing, movement, meditation and workshop teaching experience in private sessions and group classes. She is the creator of the website and blog A Drop of Om, Chakra Bliss Healing private sessions, and Chakra Bliss Group Healing and Mantra Dance workshops. She is the mom of an awesome, funny and curly five-year-old daughter. Her life oscillates between playing ponies with her daughter, and teaching and creating bliss filled healing, movement, and meditation journeys. You can run into her in her hometown of Durham New Hampshire. You can find out more about her offerings at this link.
*Sound Balancing is not suitable if you are pregnant, have had a concussion in the last six months or have a pacemaker. If you are dealing with a serious health challenge and would like to make sure that this healing modality is suitable for you, please contact Damla.