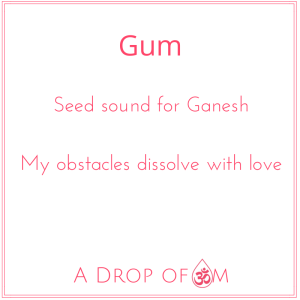 My obstacles dissolve with love."

Damla Aktekin
Gum is the seed sound for Ganesh. It holds the power of what Ganesh represents: the ability to remove obstacles seen or unseen, physical or subtle, past, present or future.
My obstacles dissolve with love. (Tweet that) Prior to chanting this mantra, bring forth an obstacle to work with as your intention. When you see your obstacle fully and acknowledge it with love, it softens and shifts. Your obstacle then may show you its soft belly, its vulnerability, making you love it (and yourself) even more.
Your obstacles have a purpose. They are your teachers. In chanting 'Gum' you are wishing this wisdom to come forth, so you can see clearly. All obstacles are part of you and your journey. To integrate your shadow into your being, to reach wisdom, you need to open up the conversation with all parts of your soul.
You can chant along with me 27 times or more.
Gum – 27 Reps by Damla Aktekin
For more yogic, tips, tools and mantra goodness, subscribe to my Newsletter and like my Facebook page.
With love and light,
Damla