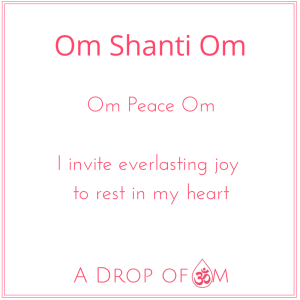 I open myself to joy, presence and peace."

Damla Aktekin
Om Shanti Om. Om Peace Om. I invite everlasting joy to rest in my heart. I tap into the stillness of the universe. I open myself to joy, presence and peace. (Tweet that)
With this mantra, the power is in its simplicity. With each repetition you will feel the presence of something deep in your body and soul. The peace, the Om vibration of the universe is already there, you just need to listen and lean into it.
There is a quick rhythm to Om Shanti Om. It may feel awkward at first. If you keep at it, your breath will carry you through it. You may even find yourself moving and shaking gently with the tune. You can chant along with me 27 times or more.
Om Shanti Om – 27 Reps by Damla Aktekin
Let me know what brings you peace. For more yogic, tips, tools and mantra goodness, subscribe to my Newsletter and like my Facebook page.
With love and light,
Damla