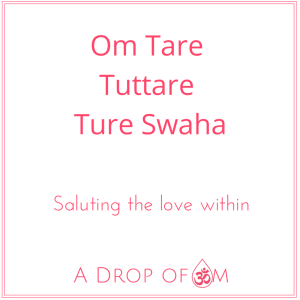 Imagine a Being so full of love and compassion that she enlightens. That is Green Tara, she is the Buddha of love.
Om Tare Tuttare Ture Swaha. Saluting the love within. (Tweet that) This mantra is a salutation to Tara and the amazing transformation she brings about with love. When you salute Tara and the names of Tara (Tare, Tuttare, Ture are all variations of the name Tara), you are in fact saluting your capacity to love, igniting the amazing source of healing that you carry right in your heart.
In the end what this mantra is all about is simple: We love. We heal. (Tweet that)
This is a mantra that is spoken softly, like whispering to your baby or lover, like being a soft wind. You can chant along with me 27 times or more.
Om Tare Tuttare Ture Swaha – 27 Reps by Damla Aktekin
While here, leave a comment and let me know how love healed you and how you plan to use this mantra. For more yogic, tips, tools and mantra goodness subscribe to my Newsletter and like my Facebook page.
With love and light,
Damla