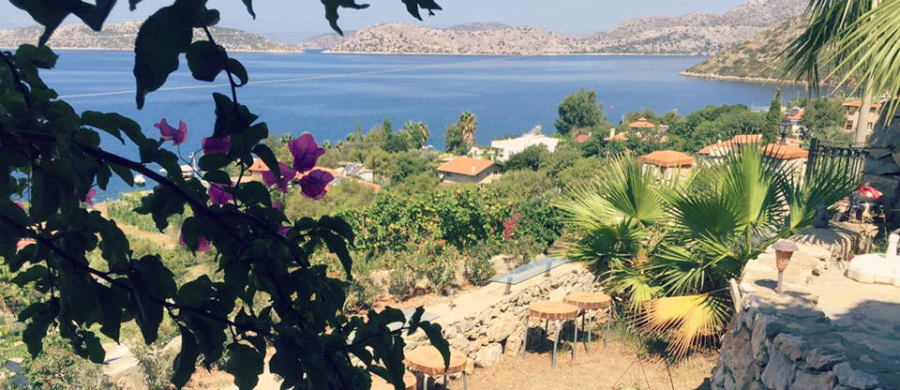 It is 10:30pm. On a country road on the West Coast of Turkey we stop on the side of the road and rush out of the car. There is a thick smoke and a burnt plastic scent coming out of the front of the car. I carry my five year old daughter quickly a few yards away. Luckily she is blissfully sleepy with her headphones on, listening to her music. As my husband and in-laws try to find a flashlight, a car stops and two women and a guy come out asking us what we need. They then quickly produce a flashlight. We figure out that the engine ran out of water and overheated. The guy runs to the back of his car and brings out a 30 gallon water container. It turns out that they don't normally carry water with them. But earlier that day they stopped by a friend's house and their friend insisted that they take the water with them. We fill the water tank and in less than 15 minutes we are on our way safe and sound.
So next time you run out of water, gas, life energy, money, creative solutions or hope, remember that help is on its way to you in vehicles and ways you cannot begin to imagine. This happened three weeks ago while we were on our way to my in-laws' summer house in the little village of Sogut in Marmaris Turkey. The picture gives a view of this beautiful Aegean seaside haven.
I am now back in Durham, New Hampshire filled with soulful insights and light. So happy to be back home, and our home feels spacious, light, and airy because I feel that I am bringing back that energy. I look forward to connecting with you and sharing the light. Here are a few ways to work with me and engage in a conversation with your soul to figure out what she/he needs:
Experience Sound Balancing. This is a method that is more than skin deep. It cuts right into your energetic wounds. As I am working on your field, I hear, feel and sense what your wounds have to say. Everything wishes to be seen, heard and understood. In my experience, when you give a wound a voice and a space to exist peacefully, it relaxes into your being and becomes a connection to your soul. Distance sessions available. $60 per single session, $150 for three sessions until September 30th. The price will rise to $85 for a single session and $225 for three sessions after that. Book your session here.
Enhance and clear your chakras with Chakra Bliss Healing. Crystals have the magical ability to expand your field and catalyze your intentions. When your field is expanded, you are able to withstand whatever life throws at you. Because you can act (not react) from a place of grounded spaciousness, instead of constricted tightness. You can experience a group session or book an in-person or Skype private. The next Chakra Bliss Group Healing is at Bending Bodhi Yoga in Dover on September 10, 2-3pm, $25 and $20 for studio members. More information on private single or group sessions is here.
Get grounded, release what you no longer need and get inspired with Replenish Your Well – A Sacred Site Ritual and Meditation. I am taking up to 15 light-makers to one of the least known electromagnetic healing areas of America, America's Stonehenge in Salem, NH. Most of the stones are dated more than 4000 years old. This site has been known to be used as a ritual site for many cultures and tribes over the years. It is one of those places where you distinctly feel the Earth's healing energy. Together we will set an intention to release what we don't need and replenish ourselves with what need. $25 per person which includes the $12 entry fee. You can pre-register until August 20th. Minimum 5 registrants. Register here.
As always, please feel free to reach out to me with anything you would like to share. There's a daily conversation going on about how to bring bliss into our lives and chakras, at our private Chakra Bliss Party Facebook Group. You can join in the conversation or listen quietly to the wisdom of the beautiful and amazing souls who hold this virtual space for each other.
With love and light,
Damla