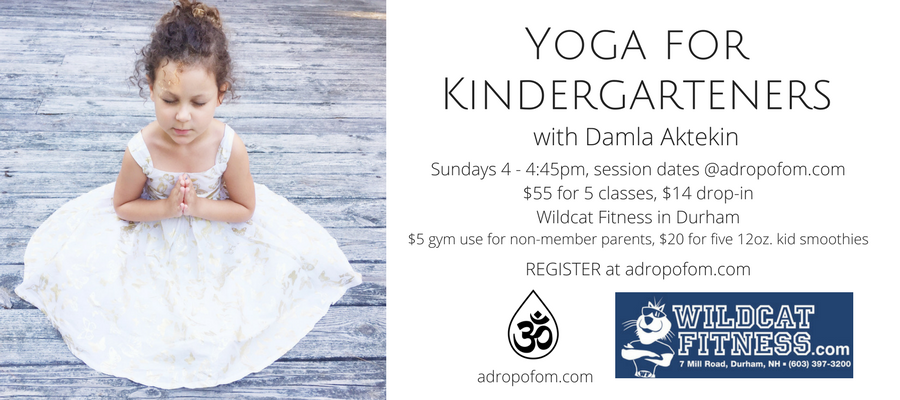 Yoga for Kindergarteners is for all Kindergarteners who love to move and have fun!
Through playful stories, they will dive into yoga poses, learn to deepen their breath and practice mindfulness and meditation, all in a way that is accessible to them.
A few things to keep in mind:
Sundays 4 – 4:45pm
@ Wildcat Fitness in Durham, NH
Open to 20 children, a minimum of 5 registrants is needed to run the session.
Drop-ins will be available depending on the class size.
Please bring a water bottle for your Kindergartener and dress them in comfortable, stretchy clothing.
Your child can bring a yoga mat or borrow one from the class.
Parents will be asked to sign a liability release form at the first class.
This class is for children only. Parents are welcome to wait outside. Parents can also take advantage of the Wildcat Fitness gym facilities for a reduced rate of $5 per person (instead of $8) for non-members. These passes can be purchased at the front desk.
If you are interested in a healthy snack, Wildcat Fitness is also offering a $20 punch card for five 12oz smoothies for workshop participants.
UPCOMING SESSIONS:
November 5 – December 17 (no class on November 12 & 26), 2017
January 21 – February 18, 2018
March 11 – April 8, 2018
May 6 – June 3, 2018
REGISTER HERE: