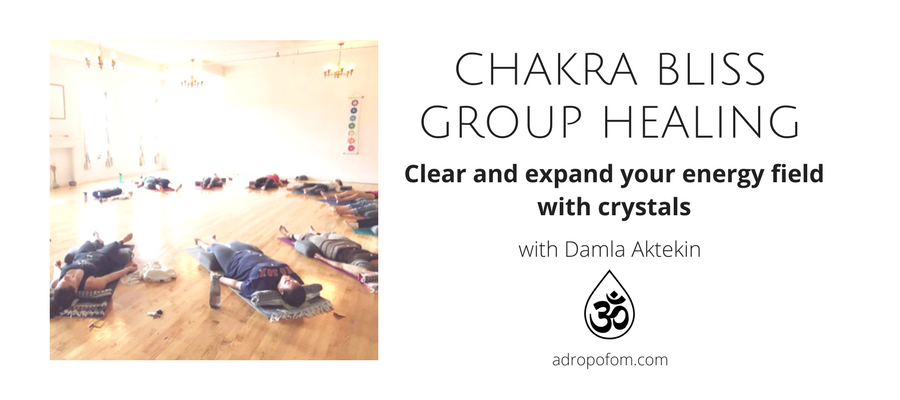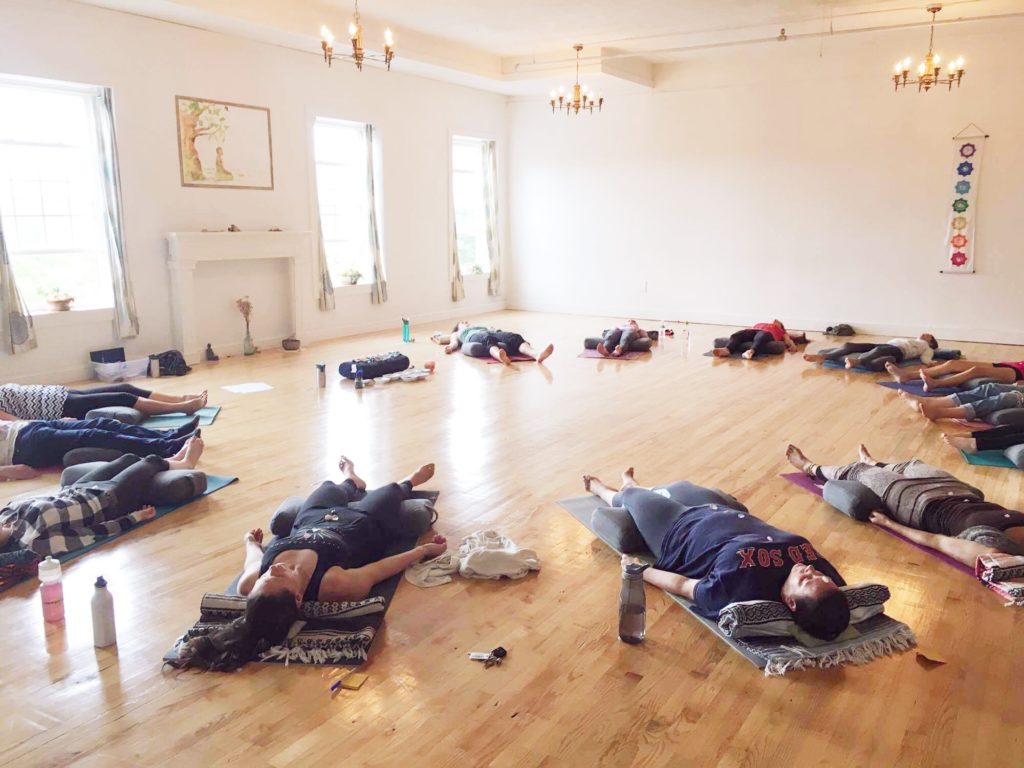 Chakra Bliss Healing is an energy healing method developed by Damla Aktekin during her own physical and spiritual healing process. The method is based on activating the natural magnetism and the light healing properties of the crystals and stones, and accessing the healing light and love energy of the spirit guides and helpers by using intuition and clairaudience.
In this 1.5 hour long Chakra Bliss Group Healing session, you have the opportunity to:
Receive a Chakra Bliss Healing session and experience the magical healing powers of crystals and stones first-hand
Renew, reset, and relax your physical, emotional and spiritual bodies,
Open up yourself to an intelligent, healing love and light energy that knows exactly where to work and fast
Get the wisdom, support and light you need the most right now by connecting to your higher self, spirit guides and spirit helpers,
Get rid of any weights or limitations that are keeping you stuck
Increase your light, love and vibration, and feel lighter and brighter
Dive deep into your inner self through relaxing, healing, and balancing guided chakra meditations
Feel safe and secure in a sacred healing circle
And enjoy a super looooong savasana sprinkled with love and light! 🙂
Good to know:
No previous yoga or meditation experience required. Participants must be able to stay prone on their back for up to an hour. Please dress comfortably in layers, especially if you tend to get cold.
Minimum # of participants: 5.
Open to 15 participants
Please pre-register to reserve your space.
For dates, times and sign up information
Please check out the Work With Me page for all dates and times.
Testimonials
"Coming to the Chakra Bliss Group Healing, I didn't know what to expect. I hoped for a positive energy infusion. My experience actually exceeded my expectations. What surprised me most about the session was that I look at other people and assume that they are doing well, and through the sharing circle, I learned that we all share pain and search for how to deal with it and how to get back to our healthy state.
During the meditation, I, at one point, became aware of a feeling of potent moving energy near my temples which was a definite arrival of such, a cloud like feeling, gentle but deliberate. It moved to the top of my head in a strong upward swirling motion. Both felt wonderful, almost like positive drug states! After the healing I felt relieved, that I could feel a bit more in touch with openness. And I felt hopeful that the ability to feel in touch with this openness could last.
I have been to a few individual energy healing sessions before. The sessions all had distinct effects of different kinds, emotional, color, warm energy hovering over me. Not knowing that there would be any individual energy healing in this session, it was suddenly and un-mistakenly obvious to me that there was an energy body impacting me. I wondered if I might be imagining it. I fought the temptation to open my eyes, as I did not want it to disappear. The cloud like energy at my temples and then the swirling and almost dizzying pulling upward at the top of my head encouraged me to remember that there is so much more going on in this life than we can know and that we can become ok."    Carolyn R.
"I'm in a much better place today. I feel fantastic. After my friend and I left yesterday's group healing we had dinner with a large group of friends and I felt like myself again. I was able to enjoy being with everyone because the fog finally lifted and I was able to be there fully. Thanks so much for our healing yesterday. It was much needed and I appreciate it with my entire being."    April Rainville
"Thank you. My stress dissipated. I felt different energy levels that made colors change in my mind's eye. I mostly saw a radiant blue. All current concerns left my immediate focus falling behind the veil of warmth." Alan Cade
"During the healing, I felt overwhelmed with gratitude, rolling off me in sheets of purple light. I had an interaction with a deceased donor, felt his hand over our shared body part as he gently chastised me and reminded me that I have free will of choice. It was surprising to me that I encountered a spirit I never knew in life, but who has now interacted with me twice in my own life. I enjoyed the group dynamics, the honesty and the physical surroundings. Damla's voice and aura were warm, welcoming and knowledgeable. After the healing I felt alive. " Dr. Ann Miller
"Beautiful, powerful, rejuvenating!" Heather Campbell
"This was a beautiful experience for me. Thank you. I haven't felt this sense of balance in a very long time." Brittany Davenport
"I feel lighter, more at peace, and more centered." Caila Kantar
"I felt love, peace and saw lights. I could sense the peaceful love that was given. Thank you!" Malissa Day
"It was very relaxing and healing. I was able to travel to a place of peace. I have been having a hard time finding balance lately and this was so helpful." Andrea Picard
"I really enjoyed this experience. It felt like I saw a really bright white light that kept growing. I feel super relaxed and at peace right now." Emily Minerowicz
"It was amazing and relaxing and a beautiful practice." Kayla Frazer